11 Tips for Getting Google Reviews
by James Meggitt, Manager at Fox in a Box Gold Coast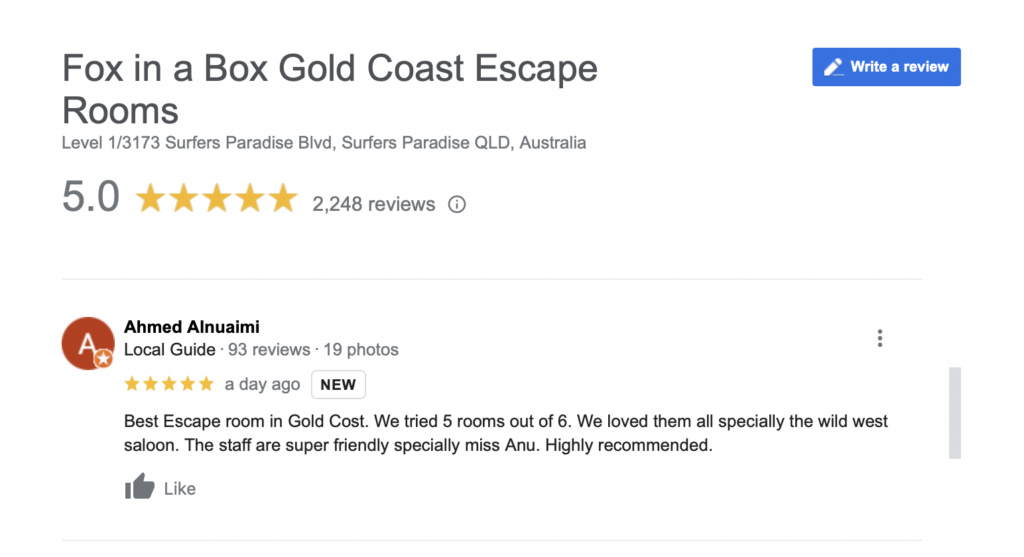 A great Google rating and a substantial amount of reviews for your business is a must. The research is clear: reviews build customer trust and bad reviews turn them away. A 2023 survey by BrightLocal found that 92% of consumers say that Google reviews influence their decision to purchase from a local business.
So a great google rating is important if you want to immediately build customer trust and prevent sending your customers to your competitors.
In this article I will outline some steps, tips, and strategies you can use to increase your Google review count.
Get Good Reviews
Getting a 5-star google review all comes down to first class customer service. The approach must contain the following three things.
A worthy product/service
An experience that exceeds expectation
A call to action
A Worthy Product
First and foremost you need to be supplying a product or service that meets or exceeds your customer's expectations. You will struggle to get your google review count off the ground if your business does not operate at the expected quality. This doesn't necessarily mean you need to improve your products. Find out what makes your product or service great and then market that message. In this way you attract customers who are specifically looking for what you do. This will make it easy to please them.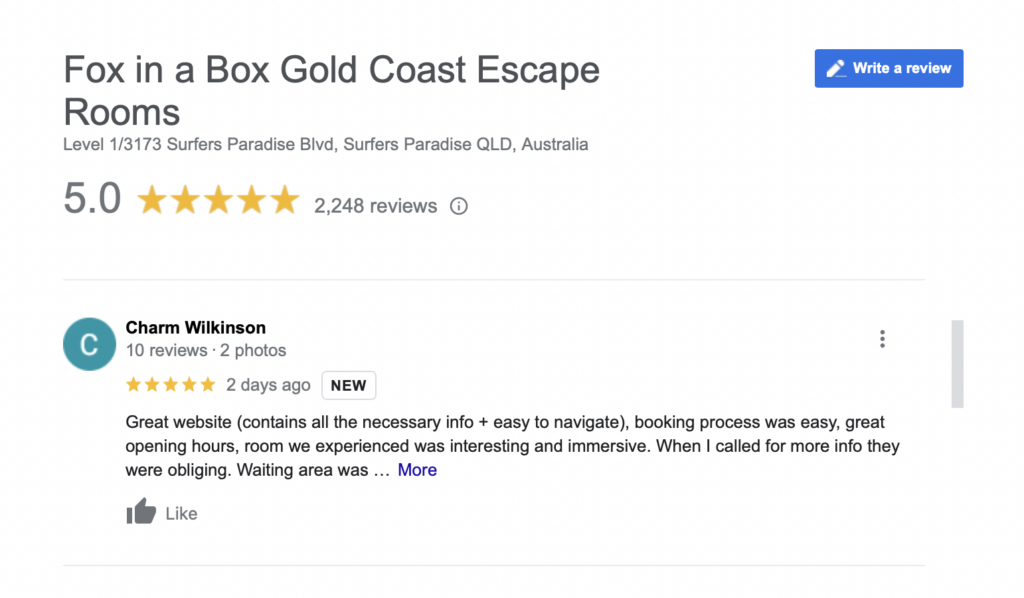 Exceed Expectations
The reality is that every customer expects a 5-star experience from you. That is their baseline expectation. If you have someone walk into your business, request your service, pay, and then leave, then that customer's expectations were met and they will forget about you as soon as they leave the building.
You need to provide an experience to your customer that exceeds expectations. This isn't as difficult as it may sound. Most businesses don't even meet customer expectations. Here are some suggestions on how you can leave your customer feeling special:
Greet your customer as they enter your business (if you're busy with someone else be sure to let them know you will be with them shortly). Being acknowledged as soon as you enter is a great feeling and immediately makes your customer feel seen and heard.
Remember your customer's name. Feeling important is memorable. Simply reminding someone that you know who they are will make them feel like you really care.
Reward them for simply existing. I believe that every business should factor into their consumable costs some sort of token of customer appreciation. It could be a small treat, a sticker, an ink stamp saying "you're great", or even a ribbon saying "Customer of the day". Give these to customers you make a connection with. I can guarantee this will make their day and have them telling someone about your business.
Make it personal. Be authentic with your customer. Treat them as if you've just met them at a party.Be interested in what they have to say. If they ask you about your day, be honest with them. Give your customer the opportunity to connect with you.
Listen to feedback. If a customer has had a negative experience with your business then listen to them to understand what has made them speak out to you. There is always something to learn from a customer who has not had their expectations met and there is always something you can do about it. Yes it costs your business money to refund a product or a service, but that cost should be considered an investment in improving your business. The more you do this, the less it will happen.
Ask questions. During the feedback process ask questions to find out exactly how the customer wants their problem solved. Most people will complain because they feel as if something unfair has happened. Find out how and why that is the case and ask them to tell you what can be done to fix it. Their proposed solutions are often simple to enact and they can turn a negative experience into a loyal customer.
A Call To Action
You have to ask for reviews and have a strategy in place for getting your customer to hit that "write review" button. There are no two ways about it. You will not get reviews unless you:
Make it easy for your customer to leave one
Ask for one
Both of these actions are crucial to increasing your Google review count. Once you have given a customer an outstanding experience you will need to ask them to leave a review. This can be done in a variety of ways and unfortunately it always feels awkward. Here are some tips on how to make it less awkward.
Ask for help. Before the customer has left ask them for a favor. The request can look like this "can I ask you a favor? Our google reviews are really important for a business like ours. Would you mind leaving us one? It would really help us out." When you ask for help first you position the customer as a valuable guide in your journey. People are more inclined to leave a review when you ask them.
Incentivize your staff. For every staff member mentioned in a 5-star review by name, pay them $2 — $5. Over a 2 year period, I managed to get over 2000 5-star reviews with my review strategy for Fox in a Box Gold Coast. They now get between 100–200 5-star reviews every month. The outlay to the staff was usually around the $500 mark. This was worth its weight in gold as we easily surpassed not only every other business in the area, but were the highest rated escape room in the state. Seeing as companies invest thousands of dollars per month in marketing, this was definitely a cost effective method to be the best Google result.
Review Cards. Design and print business cards with a QR code linked to your Google review page. On the card put a call to action like "What made you smile today? Tell us in a google review". Review cards, handed out with a coffee or a treat will work. They're not as effective on their own but when used in conjunction with the above methods you'll find yourself getting results immediately.
Put a call out to Local Guides. We love our local guides. Google's gamified review strategy enables people to get badges and tokens from Google when they leave reviews. As a result local guides are prolific Google review writers. Often, your lengthy reviews will come from a "local guide" with over 50 reviews under their belt. Reach out to them specifically as you know they will leave a review if they have a positive experience. Put a sign up asking for people to contact you letting you know if they are a local guide. When they do, give them that first-class experience.
Follow up emails. Use an integration like Mailchimp, Resova, Convertkit, or Wix automations to send an email 1–2 days after your customer experience has occurred. I highly recommend paying for Buzzshot and using their automated emailing system. Remind them that posting a review is an opportunity to help your business succeed.
In Conclusion
At the end of the day there is no one action or strategy that will get you results alone. They must be used in conjunction in order to elevate the quality of your business and customer experience. If you remember to give your customers an experience that exceeds their expectations and then ask them to review your business you will see your Google review ratings increase.
It will not happen overnight but consistency and a clear strategy will get you results. Soon enough you will be outnumbering your competitors and increasing sales.
The outlay to incorporate a strategy doesn't have to be expensive. When you think about the money you are losing in not having a good Google review rating our count, then employing a strategy will save you in the long run.
I hope this article empowers you to take action and build better customer experiences that help your business grow.
James Meggitt
---
About Fox in a Box Gold Coast
Fox in a Box Gold Coast opened their doors in late October 2021. Now they have 8 rooms and are offering the best and most immersive escape rooms in Surfers Paradise for adults, kids, families and corporates. Available themes: Zombie Lab, Prison Break, Prison Break head-2-head, Mastermind – A Heist Story, Bunker, The Other Side, Wild West Saloon and Zodiac Killer.

The author of this article, James Meggitt, has worked as a hands-on manager of Gold Coast location from the very beginning, putting his passion of playing the escape rooms into the successful business.